As we rush towards the 2015 general election, I've tried to prepare some simple infographics to illustrate the utter absurdity of the two main parties' appeals for our votes.
First, the Tories who have managed to double our national debt from about £750bn to around £1,500bn while pretending to be implementing austerity and claiming we can trust them with the economy: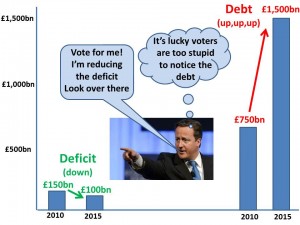 Then Labour. Well, they don't mention the economy or debt any more – for fairly obvious reasons. Labour just tell us how much more they're going to spend without making it terribly clear where the money will be coming from: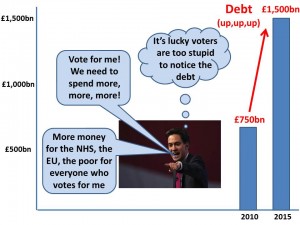 As for the LibDems – hopefully they're going to be wiped out in May. So, who cares what they're promising?
The trouble is, that with 91% of voters not understanding the difference between "deficit" and "debt", the two main parties will get away with their lies. When asked about the Coalition's original plans for cutting the deficit by £350bn, a truly amazing/horrifying 70% of voters thought this would also mean the national debt would fall by £350bn and an equally worrying 21% believed that if you cut the deficit, then the national debt would stay the same. Only a pathetically small 9% of voters understood that as long as there was a deficit, national debt would rise: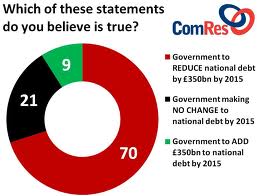 Only UKIP can put a stop to this madness! Interesting times ahead!
(By the way, 21 Christians have been beheaded by our M*sl*m friends in Libya – http://news.yahoo.com/says-beheaded-egyptian-copts-libya-193850727.html – no screams of outrage from all the politically-correct, *sl*mophiliac lefties who vilify Israel every time it tries to defend itself. Oh, and the fragrant, corpulent Baroness Warsi seems to be uncharacteristically quiet at the moment too)