Let us give thanks to the good people of Sri Lanka for the extraordinary generosity they have shown to their leaders. It has just been revealed that the former president Mahinda Rajapaska is estimated to have stolen about $5bn in just 9 years in power. That's about $550m a year or $10m a week. No wonder he's always smiling:
Sri Lanka's average wage is around £2,400 ($3,600). So each year, President Rajapaska stole the amount earned by around 153,000 working Sri Lankans.
And that was just him. When you add in what all his family members and cronies have also stolen, you're probably well over $2bn a year.
Of course, Sri Lanka is a supposedly 'poor, developing country'. So it gets lots of foreign aid – around $880m a year. A study by the Global Financial Integrity project has estimated that Sri Lank's rulers steal about $1bn a year. However, after the latest revelations about former president Rajapaska's generosity to himself with his country's money, they may need to revise their figures upwards ever so slightly.
We in the West fail to understand the mentality of leaders, officials and businesspeople in Third-World countries. When there's some natural disaster or war, we show solidarity by collecting and distributing hundreds of millions or even billions. But for the local elites, these are just opportunities to get rich by plundering the aid  money.  In Sri Lanka, where the Boxing Day Tsunami killed 35,300 and made 516,000 homeless, customs officers impounded vehicles and medical supplies we sent and would reportedly only release the vehicles and aid in return for an immediate payment of around $1m in cash bribes and a further $2m later. Meanwhile, the Sri Lankan Government, seeing all the aid money pouring in imposed a special tax on foreign aid. It's not difficult to imagine where this tax money ended up.
In fact, if you look at the Global Financial Integrity project's estimates for the amounts stolen each year by Third-World leaders, it usually comfortably exceeds the amount their countries receive in aid. Here are just a few examples: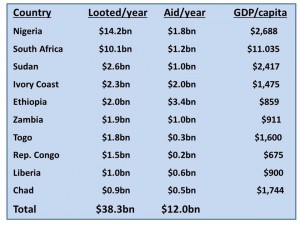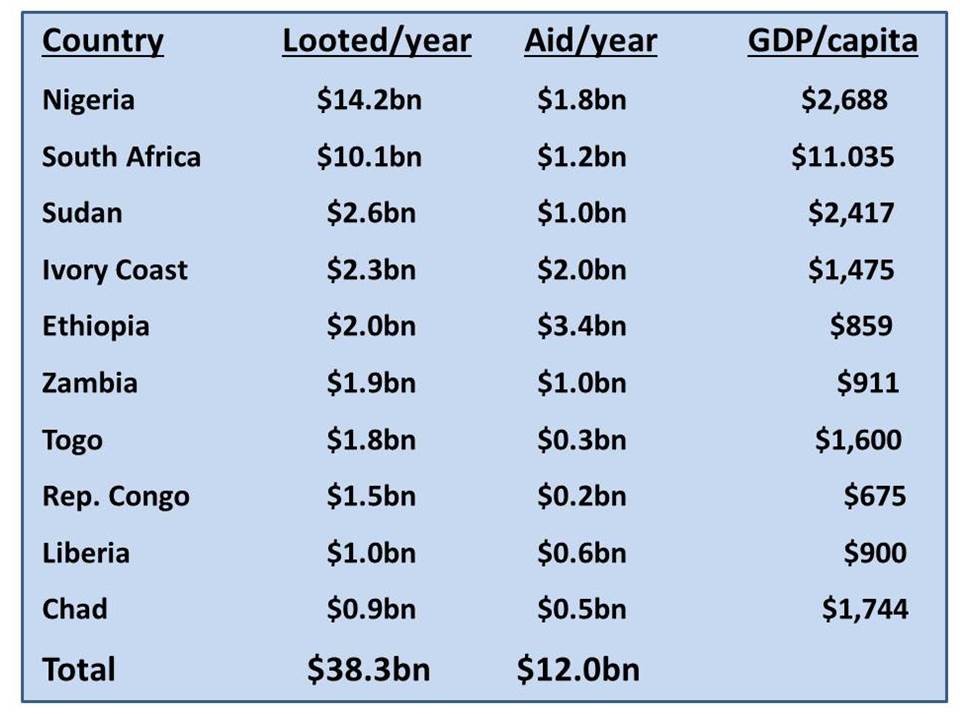 In just these ten African countries, which receive around $12bn in foreign aid each year, the rulers are siphoning off about $38.3bn a year. That's more than three times as much as they receive in aid.
I could have produced a table for over 100 Third-World countries and the results would be the same. So forget all the bleating by Guardianistas and professional handwringers about the need for foreign aid. If Third-World kleptocracy could be reduced by just a third and the stolen money invested in new schools, hospitals, roads, power plants, water supply, ports, trains, power stations, universities etc, we could stop all foreign aid immediately and hardly a single Third-World country would be worse off. If we could halve corruption, we could stop all foreign aid and most countries would actually be better off.
That's something you'd never find anyone in the mainstream media mentioning as they'd be terrified of being labelled a "waaaacccciiiiissssttttt!!!!" So the wholesale plundering across the Third World continues unquestioned by our supposedly 'free' press.
And as for bankrupt Britain increasing its aid budget to these worthless kleptocrats from £7.9bn a year to over £12bn a year. I have pointed out several times that just the £4.1bn increase in our aid budget to the world's greatest thieves would have been enough money to pay for 32,400 police and 39,000 military being fired here by the Coalition government to save money.