I get really really frustrated and angry when I hear waaaacccciiiissssttts and narrow-minded bigots claim "*sl*m is not compatible with British values". It really really makes me cross.
I believe it makes our great leader, *sl*mo-Dave Cameron, very very cross too. So he has to keep telling us that "*sl*m's values are British values".
So, to prove once and for all that the wonderful Religion of Tolerance and Peace is (as an X-Factor judge might say) a million trillion percent compatible with British values, I've prepared a simple reference table. On the left I've listed a few key aspects of life in Britain and then across I've indicated the dominant attitudes of four main groups to these aspects of life in Britain (click to see more clearly):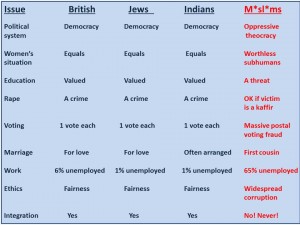 There. You can see that *sl*m is ummm, errr, oops. Wait, let me try again: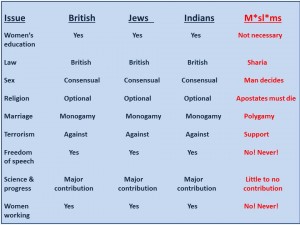 I'm sorry. I think something has gone wrong here. I thought, I mean, I tried, oh oh, I guess it's back to the drawing board with this idea.
David Cameron will be very angry with me now.