I've been waiting with bated breath for our great leader, podgy *sl*mo-Dave Cameron, to tell us that the slaughter of innocents in Paris '"had nothing to do with *sl*m which is a religion of peace". After all, that's what *sl*mo-Dave claims after every such attack. But Dave has been curiously silent. Perhaps he realises that his usual *sl*mophiliac bollox won't wash this time.
Instead, I suspect the narrative we'll be fed by our rulers will be along the lines of "we all need to pull together after this appalling tragedy". Such a mealy-mouthed explanation suggests, of course, that what happened in Paris (and will soon happen in Britain) was the responsibility of all of us and had nothing to do with one particular backward, intolerant, violent, ever-offended group in our society. Also, by using a word like "tragedy", our rulers are almost equating this to a natural disaster, like an earthquake, rather than admitting it was a deliberate slaughter of innocent people by murderers encouraged by their mentors – the leaders of the M*sl*m community.
In fact, our rulers have spent more time criticising Nigel Farage for daring to say that we have a M*sl*m Fifth Column in Europe, than they have spent mentioning the role of M*sl*m leaders in encouraging their murderous devil's spawn
Our rulers are still working out how to respond to the events in Paris while not offending (or even mentioning) M*sl*ms. But in the press cowardly, politically-correct apologists for the *sl*mic murderers have already begun creeping out from under their stones.
Financial Times – the Europe editor of the Financial Times, Tony Barber accused Charlie Hebdo, the French satirical newspaper of "M*sl*m baiting". In an opinion piece published just hours after 12 people were killed in the Paris assault, Barber wrote that "Charlie Hebdo has a long record of mocking, baiting and needling French Muslims," adding: "France is the land of Voltaire, but too often editorial foolishness has prevailed at Charlie Hebdo." Referring to the magazine that regularly pokes fun at religious leaders and people of authority, Barber called the newspaper "stupid" and lacking in "common sense".
Having tried to blame the cartoonists, he of course went on to criticise the murderers: "This is not in the slightest to condone the murderers, who must be caught and punished, or to suggest that freedom of expression should not extend to satirical portrayals of religion," he wrote. "It is merely to say that some common sense would be useful at publications such as Charlie Hebdo, and Denmark's Jyllands-Posten, which purport to strike a blow for freedom when they provoke Muslims, but are actually just being stupid."
So, the Financial Times believes that anyone who dares criticise the backwardness, stupidity, intolerance and fanaticism of the death cult that is *sl*m is "stupid". Maybe the rest of us might call those who dare expose the problems with *sl*m "brave"?
The Times – Charles Bremner, the Europe correspondent for the Times, also started making excuses for the murderers claiming "France is paying price for pushing 6 million Muslims to the margins". Bremner then goes on to suggest that it is French M*sl*ms who are the victims: "The Muslims of France are suffering real anxiety living in this climate of stigmatisation" perhaps overlooking the fact that M*sl*ms have not been marginalised and stigmatised. They have repeatedly refused to integrate with our society and to accept our norms of tolerance and free speech.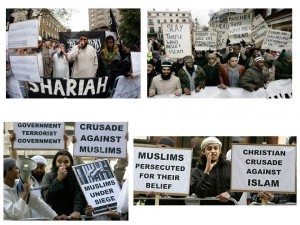 Daily Telegraph – Even in the Telegraph, we are being told it is all our fault and no blame should be attached to M*sl*ms. Their ranting buffoon Dan Hodges wrote today: "we are failing to integrate significant elements of our Muslim communities fully and effectively into our society".
Hopefully the British people will not be fooled by all this politically-correct claptrap.
No doubt our terrified *sl*mophiliac journalists will soon be claiming that M*sl*ms are really peaceful tolerant people and tiny Israel's supposed "oppression" of 400 million Arabs is the real reason for *sl*mic terror attacks.