I don't normally read the Guardian. But yesterday, with nothing better to do, I went to the Guardian website.
There was an extraordinary article by some wild-eyed old bat claiming hundreds of thousands of people in Britain were starving. The title of the article was  "Yes, people can starve in benefit-sanctions Britain"
And the subtitle: "Unemployed, disabled and chronically ill people are going hungry – because a sadistic government is removing the money they need to eat".
The article ended up with: "It seems a particular level of sadism to remove the money people need to eat and act surprised when they are hungry. A new report is just another excuse for those in power to shirk responsibility, to blame the people they have already degraded once and who cannot defend themselves. A general election is coming. Its citizens are starving, and this government's priority is denial"
All pretty serious and angry stuff.
Yet the loony writer is claiming that thousands are starving at a time when 46,300 immigrants a month are pouring into Britain many of whom are having little trouble finding jobs if they want to work and most of whom are astonished at the huge amounts of money they get from us in tax credits and child credits and all sorts of other benefits. Moreover, there are thousands more in Calais, all ready to risk their lives to come to Benefits Britain rather than stay in any of the 27 other EU countries.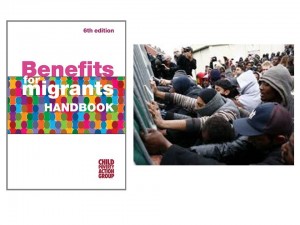 So, reports of thousands of Brits starving might be ever so slightly exaggerated.
And the idiotic Archbishop of Canterbury, no doubt an avid Guardianista, said something about conditions in Britain being like the Congo. Pity the dopey clergyman didn't ask himself why so many people from the Congo are trying to get into Britain and so few people from Britain are trying to get into the Congo.
As for the readers commenting on the writer's crazed anti-government rant, they do seem to be rather stupid and foul-mouthed. Here are just a few of the hundreds of the more than absurd comments made by supposedly 'educated' Guardian readers:
"It is apparent to anyone who gives a fuck that sanctioning people and removing benefits will cause them to be unable to sustain themselves. Those that argue the toss simply don't care"
"I'm assuming you didn't read this bit of the article – either that or you simply couldn't give a shit about what this bastard government is doing"
"Yes the Tories are scum. What they are doing is child abuse. A revolting and brutal government"
"The DWP and the so-called 'Job Centres' in their existing forms need to be completely wiped out and rebuilt from scratch. The evidence indicates that the entire system is corrupt, and managed by psychopaths"
"I agree with this 100%. Many people I know are suffering at the hands of the DWP and some have died thanks benefit sanctions and delays. Why are evildoers Duncan Smith and Lord Freud still in their place ?"
"The ConDemns are in my view as bad as the Nazis in their systematic murder of the people of this country…Adolf Hitler and all his cronies would feel quite at home in this country these day…."
 "This govt disgusts me and IDS is maybe the biggest panto villain out there, except the nightmare is real!!"
"Lots of good comments on this. And half a dozen complete and utter heartless, ignorant, totally shitty tw*ts who would doubtless kick a malnourished kid into the path of a bus rather than shell out any of their bloated salaries to help"
So, returning to the two questions: Are Guardian writers fools? Are their readers foul-mouthed imbeciles?
I think the answer to both has to be a resounding YES!