Phew! Now we've had the much-heralded Dave "Cast-Iron" Cameron's great speech on immigration. Dave was so sincere, like I mean really really sincere, that it almost brought tears to my eyes. Oh Dave, you pressed all the right buttons. Not.
But then Dave really is the 'heir to Blair' – a congenital, recidivist liar who would say anything to anyone just to squeeze out a few votes.
Podgy, balding Cast-Iron Dave has made many promises over the last few years. There was the cast-iron promise of a referendum on the EU. Here's 1 minute 12 seconds of Cast-Iron promising us a referendum on the EU in 2009 just before the EU elections https://www.youtube.com/watch?v=sQ2n7oMcSi0 This was immediately abandoned until UKIP's successes forced Cast-Iron to reinvent an imaginary referendum conveniently far out in the future.
Dave promised to reduce immigration. Now even immigration from the world's worst (mostly M*sl*m) hell-holes, which Dave could have controlled, is higher than when he came to power.
In fact, Dave so likes making promises, that his 2010 election manifesto was puffed as a 'contract' (click to see more clearly)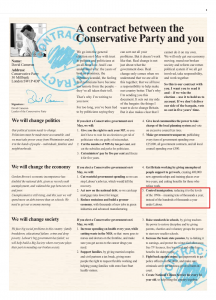 Dave, your promises are about as 'cast-iron' as candy floss. Nobody believes you any more. You're almost as much of a joke as Clegg or Miliband. That's because you all resemble each other – spoilt, self-regarding, arrogant, self-serving, elitist brats who nobody can respect as you have never had a proper job in your gilded lives. Instead you've all relied on your connections, your glad-handing and your obsequious, sycophantic brown-nosing to get to where you are.
Still, I'm really looking forward to all the 'cast-iron', 'rock-hard' promises you'll be making in the run-up to the May 2015 General Election. They should be good for a laugh.