Here we go again. The usual hand-wringing, bleating 'opinion-leaders' telling us that the reason Ebola is spreading in Africa is that some countries are too poor to afford the medical facilities to treat the infected effectively. And, of course, the World Health Organisation is demanding that rich countries hand over lots more money – $1bn – to give to the African countries where Ebola is spreading.
But hold on a minute, here's something the bleating  hand-wringers possibly 'forget' to mention. The countries where Ebola is rife already get lots of our money. But sadly the mainstream media chooses to not tell us what actually happens to our money. I guess that's the role of websites like snouts-in-the-trough (even though most of my readers show little inclination to support the site by buying my books).
So, here are the facts the mainstream media don't want us to know. The table below shows the four countries where there is Ebola, how many cases of Ebola there have been per country, how much foreign aid that country gets each year for building schools and hospitals and clinics and training medical staff and how much money is estimated to be looted from that country each year by the ruling elites and their cronies: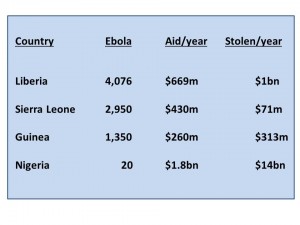 Oooh look. In two of the worst-hit countries – Liberia and Guinea – we're giving plenty of aid each year. But the ruling elites are stealing more from their countries that they are getting in aid. In fact, if these figures are anywhere near accurate, Sierra Leone looks like a model of honesty compared to venal hell-holes Liberia and Guinea.
Don't believe the mainstream media journalists. These African countries don't need ever more of our money. They need to stop stealing the money they're already getting and to use this money for building the hospitals and clinics for which it was originally intended. The BBC won't tell you that!
And here's how to stop the spread of Ebola: Anyone wishing to travel from an affected country should have to give the authorities 3 weeks' notice of their intention to travel, should spend those three weeks in an isolated compound and should be tested by Western (not corrupt and incompetent African) medical  staff each week for those 3 weeks. With Ebola having an incubation period of three weeks, this would hopefully pick up all Ebola carriers trying to leave the country.
But, of course, we can't do this because it would be "waaaaaaccccciiiiiissssssttttt!"