(Sorry but it's Oxfam again today)
In June this year, Oxfam launched a campaign on Twitter called "The Perfect Storm". It featured a mock film poster (click to see more clearly)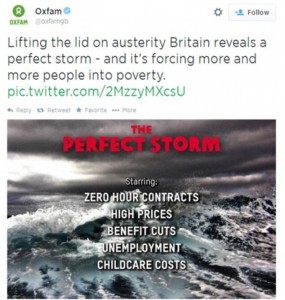 This campaign was backed up by a report The Perfect Storm: Economic stagnation, the rising cost of living, public spending cuts, and the impact on UK poverty'.
In the report, Oxfam claimed things like:
– 13.5 million people (one in five of the UK population) live in poverty
– 5.5 million households (one in five) are in 'fuel poverty
– the UK has weaker protection for those in work than Mexico
Naturally, this report slightly upset the Tories and one MP asked the Charity Commission to investigate whether Oxfam had broken Charity Commission rules by running a political campaign.
Oxfam, of course, denied any political bias claiming "Oxfam is a resolutely non-party political organisation – we have a duty to draw attention to the hardship suffered by poor people we work with in the UK. Fighting poverty should not be a party political issue – successive governments have presided over a tide of rising inequality"
Probably Oxfam is correct in highlighting that stagnant wages, rising prices and falling benefits are putting many families under pressure. Though the claim that one in five people in the UK are living in poverty is perhaps more than a little exaggerated. Certainly, most the unemployed drug addicts and drunks in my neighbourhood and the Somali families with 5 to 6 children living in an expensive part of London near my mother's flat seem to have plenty of money to spend.
However, the odd thing is that Oxfam seems to have been remarkably quiet when New Labour's Gordon Brown and Ed Balls crashed the economy sending unemployment shooting up by a shocking 55 per cent from 1.62 million to 2.51 million from 2007 to 2010, while energy and food prices also rocketed. Yet Oxfam launched its campaign against poverty in the UK while unemployment was falling by 17 per cent from 2.51 million to 2.08 million under the Coalition and while, in spite of Oxfam's and the Government's claims of public spending cuts, public spending was still rising seemingly inexorably
Anyway, I contacted Oxfam a few weeks ago asking for permission to use the Oxfam Perfect Storm poster in a book I was writing – The Great Charity Scandal.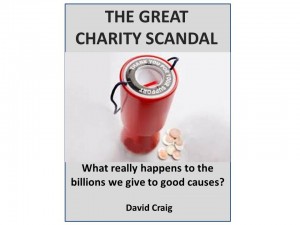 Oxfam refused. I asked again. Oxfam refused. I asked a third time. Oxfam refused a third time to let me include their mock film poster in my book.
Oh dear, I wonder if Oxfam's bosses are worried about the public's donations to maintaining their own gilded lifestyles could drop were  increasing numbers of people to find out that Oxfam could seem more interested in playing politics than saving lives with the money it collects from us.