As I'm sure you know, one of the first things idiot David Cameron did to 'cut the deficit' was to increase the amount we give for foreign aid from £7.8bn a year (0.56% of GDP) to £11.7bn a year (0.7% of GDP)
Just this increase in foreign aid of £3.9bn a year would be enough to pay the salaries of the 39,5000 military personnel and 32,400 police who are being fired to save money. So you can see how much Liar Cameron really cares about our security.
But where does our £11.7bn a year go?
Many people, when they think of foreign aid, imagine brave aid workers rescuing the poor and destitute from earthquakes, famines, tsunamis and other emergencies. But in fact less than £500m of our foreign aid money goes on 'emergency aid'. The rest – more than 95% – goes on 'development aid' – supposedly helping the poorest countries pull themselves out of poverty. And most of that money goes to the basket-case countries of sub-Saharan Africa.
Here are some really nice people. They're African leaders.
They tend to be extremely large and healthy – unlike most of the people they rule. How can this be? Because they steal billions in aid money each year to either spend on palaces and fleets of Mercedes or to hide in offshore bank accounts.
Wait! Before you call me a "waaaacccciiiisssstttt!" here are some facts. The chart below shows the 10 African countries whose ruling elites steal the most money from their countries each year and the amount each of those countries receives in aid each year from developed countries (click to see more clearly)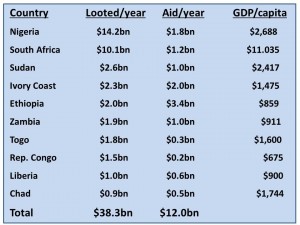 Oooh look! Surprise surprise! In almost all cases, the ruling elites in these countries steal more from their people than the country receives in aid. The only exception is Ethiopia. But that's probably because the country receives so much in aid that even Ethiopia's venal ruling elites can't steal that much.
Seems like these big black men are an awful lot smarter than we are – after all, they're stealing all the money we give them and more and we allow this to happen.
So, if Liar Cameron and schoolboy chancellor George Osborne want to cut the deficit, perhaps they could stop all British foreign aid except for a few hundred million pounds for emergencies. But that would require a backbone, something Cameron and Osborne clearly lack.