There are two daytime reality TV programmes which might make you weep with despair. One is called "Nothing to Declare" and features border control in Australia. The other is "UK Border Control".
In the Australian programme, week after week you see would-be illegal immigrants being caught at airports.  If they have suspicious items like CVs,  or work clothes or just too many clothes when supposedly going on a short holiday to Australia, they're refused entry and shoved on the next plane home: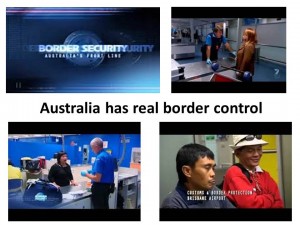 The other striking thing about the Australian programme is that the immigration officers seem to have a reasonable level of intelligence.
Not so "UK Border Control". In the British version a bunch of real thickos demonstrate they haven't a clue. For example, in one incident a M*sl*m couple from India, coming "for a holiday" in Britain were caught with 16,000 cigarettes and several kilos of tobacco in their luggage. In fact, they didn't have any clothes for their holiday. The Border Control officer quite rightly stopped them. But his supervisor, a woman, managed to convince the Indian couple that they weren't smugglers. Instead she suggested to them that they might be in danger if they were to return to India and so should claim to be asylum seekers.
Though I suppose we should be grateful that one of the idiots working for the laughably-named 'UK Border Agency' did get a little suspicious when another Indian claimed he was coming to Britain 'for a holiday' because "I want to see Birmingham Palace".
But in general, however absurd illegal immigrants' excuses, our useless Border Control almost always let them in (click to see more clearly)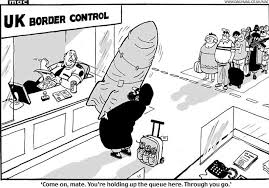 It's pathetic. It's laughable. It's tragic. It's why our country is being swamped by people who hate us but just love our wonderful benefits system: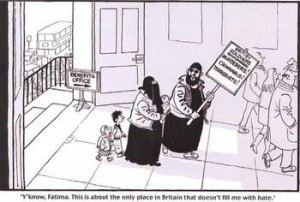 God help us.