In 1914, our German friends had a go at 'uniting' Europe under a German flag. The results were pretty terrible: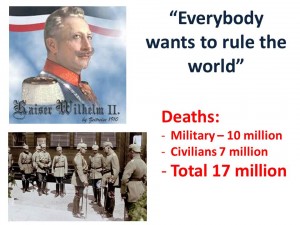 Being slightly slow learners, in 1939 the Germans had another go – again using military force.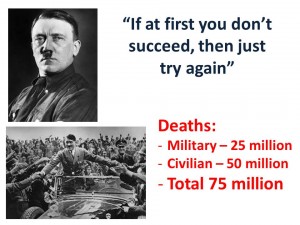 And again they broke a lot of things, but didn't get the German-dominated Europe they wanted:
But as with football, our German friends looked at why things hadn't gone their way, changed their tactics and made a third attempt to achieve their goal of the domination of Europe under the German boot.
Here's Angela Merkel triumphantly telling her obsequious British subjects that on the road to a united Europe (under German control, of course) there will be NO negotiation, NO concessions to British interests and NO return of any power to the British Parliament.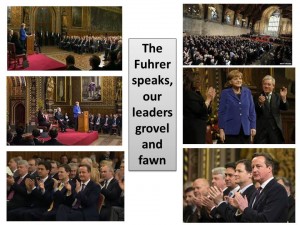 Seems to me that the Germans have finally won. What do our quisling leaders think? Mr Cameron? Or Mr Clegg? Or Mr Miliband?
By the way, why was it all those people died in two World Wars? Oh yes, I remember – it was to prevent the Germans taking over Europe. Oh dear, it looks like almost 100 million people lost their lives for no purpose at all.