Wednesday/Thursday blog
Running off a cliff
The world's economy could seem a bit like a cartoon character who runs off the end of a cliff. As long as they don't look down, they can keep on running:
But as soon as they look down, they say something like "oh-oh" and this happens: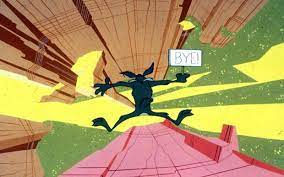 Borrowing keeps the world going round
Here's an infographic from the excellent "The Visual Capitalist" website showing the debt to GDP levels of most indebted of the world's countries:
(left-click on chart, then left-click again to see more clearly)
Following the Chinese lab-leaked plague pandemic, world debt levels rose at the fastest rate since WWII and keep on going higher.
The World Bank has estimated that around 97 million people have been pushed into extreme poverty due to the pandemic. In order to help alleviate the economic destruction caused by Xi Pingpong's Chinese Communist Party lab-leaked plague, global governments have had to increase their expenditures to deal with higher healthcare costs, unemployment, food insecurity, and to help businesses to survive.
How everyone owes money to everyone else and nobody can pay
Here's a chart readers may find confusing. It's a bit dated (it's from 2012). But it shows which countries are the main lenders (the countries along the top line of the chart) and which countries are the main borrowers (the countries on the lower line of the chart):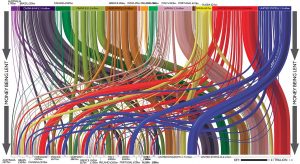 (left-click on chart, then left-click again to see more clearly)
The thickness of the lines shows the amounts of money being loaned.
First thing you might notice is that some of the countries doing the most lending are also doing the most borrowing. Confused? You should be.
Basically, banks and governments are all holding mountains of each others' debts while governments keep lending and borrowing more. No, I don't understand it either.
But this thing makes a house of cards look solid. As soon as one country defaults, the whole thing is going to collapse.
The Greece bailout farce
This almost happened when the EU (European Central Bank  ECB) and IMF and others of their ilk supposedly bailed Greece out after the 2007/2008 financial crisis. We were told that our money was being used to help Greece. In fact, I believe that most of the money went to banks in Germany, France and Italy which had lent the long since obviously bankrupt Greece probably more than €130bn of Greece's total of the €323bn debt.
We were actually bailing out the Western European banks which had made massive loans which they knew Greece could never repay as they were confident that, when things inevitably went pear-shaped, governments and international financial institutions would use taxpayers' money to bail out the banks. And the bankers would still get their bonuses.
How does it all end?
Fortunately, Greece was a fairly minor economy and its default didn't cause the whole system to implode. If somewhere like bankrupt Italy or bankrupt Spain defaults, then things will get more interesting.
Will someone look down and a massive world financial crash follow? Who knows?
Luckily for our lying politicians, most voters don't know the difference between "deficits" and "debts". So, when a government announces it will decrease a country's deficit, many voters think this means debts will also go down. However, most readers here will understand that as long as a country runs a deficit, its debt will increase. And I can't see any Western government (apart, of course, from Germany) ever running a surplus and beginning to pay down its debts.
Most advanced economies are running deficits. Therefore most are increasing their debt levels.
And a thing can only continue until it stops.