Monday to Wednesday blog
We are living in strange times
Life has never been so good in our so called 'developed' countries. Never before have so many people lived so long in such good health and enjoyed such quality of life. Yet we have many thousands of self-styled 'activists' going mental searching for more and more 'injustices' and 'disgraces' to denigrate the West. This trend was probably exacerbated by lockdowns during which people paid to stay at home poured their frustration, boredom and lack of purpose on any meaningless cause they could find. And, of course, our weak leaders merely go along with the charade.
The tyranny of the woke minority
You can slice this any way you like but it all comes down to one thing, the tyranny of the minorities, aided and abetted by the virtue signalers, the vested interests, the MSM and, of course, social media. Why are 0.0001% of the population deciding how we should think and act on any issue?  Governments are elected to govern for the majority whilst protecting the minorities.  There is no majority in this country that is for:
Political correctness
Gender choice without consequence
Persecuting people for 'micro-aggressions'
Choosing your preferred toilet and changing facilities
Sending trans-men to women's prisons
Being cancelled for using the wrong pronouns
Defiling public monuments
Virtue signaling
Critical race training
Diversity fascism
Rewriting our history
Unfettered Third-world immigration
Yet these all happen. Moreover, they are all endlessly lauded by the mainstream media as being beneficial.
It is the cult of "wokeism" the supposed moral superiority of the virtue-signaling, democracy-hating, West-loathing supposed 'progressives'.
Those whose claim is that they are the "good" the "thoughtful", the "caring" and "nurturing", are exactly the opposite. They sneer and look down at the working classes, their snobbery knows no bounds. They despise those who believe in families, that children will thrive better with two parents, belief in hard work, the law and decency. Basically anything good that the "old" world stands for.
Civilisational suicide
Their ultimate aim is to abolish the few outposts of white civilisation that remain by swamping us with Third-world invaders:
and by destroying our economies to supposedly 'save the planet' from supposed 'catastrophic climate change':
If we continue down this road the West will eat its own tail and our enemies – China, Russia, Iran, Pakistan – will destroy us.
Why do we never learn from history?
The worse thing is it the highly educated, you could even say over-educated, who promote this hate and madness. It is no different from mob rule, but in this case they use social media and the cancel culture as their weapon of choice. They are the Tw@tternazis.
The Prince and Princess of Woke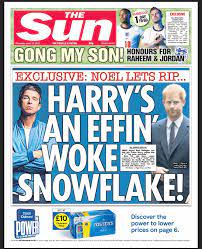 Princess Harry and Queen Meghan of Montecito are the embodiment of this Western woke decadence: no substance, PR gag after PR gag aiming at little more than polishing a flimsy social media image, constant navel-gazing and talking about their "many layers of pain" and suffering either from their multimillion dollar mansion or else while flying around the world in private jets to lecture us plebs about climate and fairness and compassion and all other kinds of BS.
Our leadership vacuum
It's frightening to realise that useless leaders such as Biden, Trudeau, Adhern, Johnson etc were given their position of power by the people. Incredulously it's ordinary folk who have foolishly voted for them having been brainwashed and misled by the media into believing these types of leaders will bring a fairer society that we can all benefit from. But the truth is that the epidemic of virtual-signing wokeism, that is infecting Western politics, will be death of freedom and democracy and a return to the Dark Ages of totalitarianism as we hand over world domination to our enemies. We seriously need to wake up before it is too late and we have all hurtled over the cliff like lemmings.
Freedom is fragile
Here's a short video from Neil Oliver on GB News warning that freedom and democracy are fragile and easily lost: