(Monday/Tuesday blog)
Feminists rule
Hardly a day goes by without yet another rabid libtard supposed Feminist ranting about #metoo and how awful white Western men are:
And yes, there are many white Western men who have abused their positions to exploit vulnerable females. There's alleged rapist Bill "Cigar" Clinton, for example. Although Feminists tend not to mention him as he's a progressive lefty democrat. But they hate Trump even though he hasn't actually molested or sexually assaulted anyone: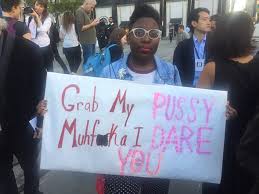 Though some Feminists are so butt ugly, that no man would want to grab them by the p*ssy or anywhere else: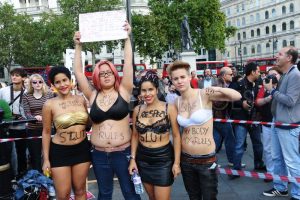 Perhaps that's what really makes them so angry?
Innocent girls die
But let's move to the serious stuff. The United Nations estimate that somewhere between 5,000 and 20,000 girls/women are murdered each year as a result of honour killings. I'm not a female, but I imagine being groped or having sex in return for a multi-million-dollar role in a major movie or having a certain fat American film producer wank off into a hotel plant pot in front of you or even being raped is slightly less unpleasant than being murdered because someone in your family believes you have betrayed your family's honour.
I mention honour killings because a Canadian, who converted to the most wonderful favoutitest religion, has just been murdered in Crapistan. She was strangled and then her family hung her up to make the murder look like a suicide. This is apparently quite a common practice in Crapistan. Though I believe being covered in burning oil is also fairly popular.
But strangely, our dear screaming, ranting, mouth-frothing, holier-than-thou Feminists simply don't mention honour killings. Between 5,000 and 20,000 girls slaughtered each year and not a peep of protest from our Feminist sisters! Why not? I think we all know why. Libtards never criticise the most wonderfullest religion however horrendous its practices and cruelty.
Shame on all you disgusting, narcissistic libtard Feminists for your hypocrisy and cowardice!
To end today's blog, here are two beautiful young Egyptian-American girls Amina and Sarah Said: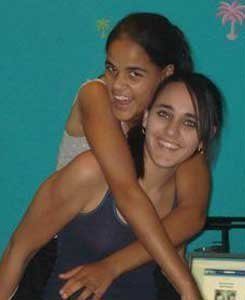 They were allegedly murdered by their father Yaser Abdel Said in Texas.
Said, who is reported to have been very controlling of his family, is believed to have felt that his daughters, Amina, 18, and Sarah, 17, had dishonored the family by refusing to adhere to traditional standards of Egyptian cultural behavior. On January 1, 2008, he lured them into his taxi cab on the pretense of taking them out to eat, and shot them in the cab. Said has evaded police capture, and remains at large.
Probably Yaser Abdel Said has fled back to his native Egypt where he'll no doubt be treated as a hero for slaughtering his two beautiful daughters. Or he may still be in the US being sheltered by his community who probably believe he did nothing wrong. After all, his daughters were often seen happy and smiling while wearing Western clothes rather than being miserable, downtrodden covered in a black sheet with just a small slit for their eyes. Maybe the girls even dreamed of getting a proper education and having careers rather than becoming bloated oppressed faceless baby factories for some Abdul or Ahmed? That in itself was surely reason enough to kill them in the eyes of our friends from the world's most advanced religion?
Meanwhile, the Feminists are silent, they don't give a damn.
Here's a short tribute I found on YouTube to Amina and Sarah. It's very simple but strangely moving: