(Wednesday/Thursday blog)
We're gonna get cooked!
Great week for the Warmies. The BBC are claiming that 2017 may be one of the hottest 3 years since records began. And I think there's a Warmies' meeting in Fiji. (How nice – I wonder why they never have these meetings in the Arctic or even Greenland? Perhaps the hotels aren't up to the standard the juncketing Warmies' have become accustomed to?)
Anyway, apparently the purpose of the Fiji meeting (apart from lots of free booze, free food, sun and cheap sex) is for the world's most corrupt (and therefore poor) countries to extract billions from richer, less corrupt countries as supposed 'compensation' for the supposed 'destruction' caused by supposed Anthropogenic (Man-Made) Global Warming.
We're gonna freeze!
Do you remember the 70s? Great rock music and free love for everybody except for me. There was one other important event in the 70s – the absolute certainty of most climate experts that the world was heading ineluctably into a New Ice Age: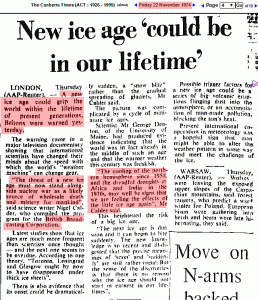 To justify their claims, the supposed 'scientists' used both ground temperature measurements and satellite data: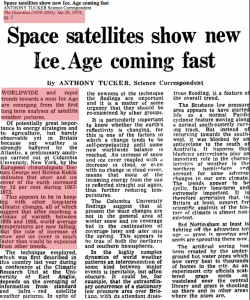 So there was no possibility of them getting this prediction wrong. And most of the supposedly serious press were soon full of grim warnings about the New Ice Age. Here's Time magazine: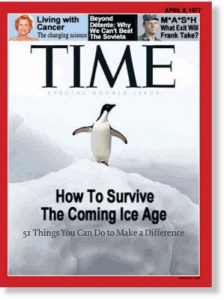 And here's Science and Mechanics: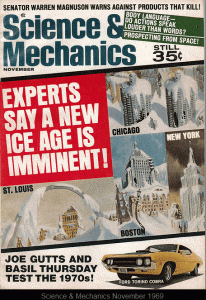 What happened to the New Ice Age? Search me, I'm still waiting for it.
We're gonna get cooked!
Of course, none of the supposed climate scientists ever mention their predictions of a New Ice Age anymore. They're too busy getting generous grants and awards for predicting catastrophic Man-Made Global Warming. And the press have picked up the "we're gonna get cooked!" narrative just as keenly as they reported the 1970s "we're gonna freeze!" story: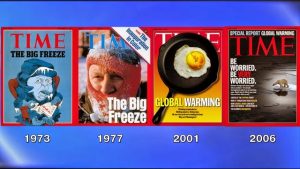 In the 1970s a gentleman called John P. Holdren became quite well known for being a leading expert on the coming New Ice Age and wrote a series of articles in which he predicted that the cold weather would lead to crop failures in Northern Europe and the US and these would result in starvation and a mass movement of people from North to South.
Given the fact that the New Ice Age stuff was all total bollox, you might have thought that Mr Holdren and friends would have crept away in embarrassment never to be heard from again. How wrong you would have been. Showing the flexibility of thought that ensures success in the 'scientific' world, Mr Holdren became a leading figure in the "We're gonna get cooked!" Warmie movement and even served, probably lucratively, as President Obummer's scientific advisor on Man-Made Global Warming.
A little sanity?
When the Warmies produce their charts showing the supposedly 'massive' rise in atmospheric CO2 since the Industrial Revolution, these always look very dramatic: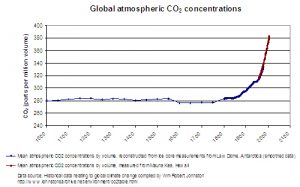 But the concentration of CO2 in the atmosphere was 280 ppm (parts per million) (0.028%) during the 10,000 years up to the mid-18th century, increasing to 407 ppm (0.041%) as of mid-2017.
Let me try to put this into context. If you had a salary of say £50,000 and you got a salary increase of 0.041% (407 ppm) you'd get an extra £20 a year. 0.041% is small, very small, Yet the Warmies are claiming that an increase of CO2 from 280 ppm to 407 ppm will be catastrophic for our planet.
Not only will this increase in something that makes up a tiny part of our atmosphere not be catastrophic, it may actually have benefits by improving crop yields.
There's neither the time nor space here to provide a fuller debunking of the Warmies' seemingly endless torrent of bollox. But surely the fact that some leading Warmie 'scientists' were once just as convinced of a New Ice Age as they now are of Man-Made Global Warming should perhaps cause people to have more than a niggling doubt about the Warmie scientists' credibility?
Of course, the climate is changing. It always has and always will. But it is questionable whether human activity has any influence on the climate. It's more likely that things like solar activity are the main influence on our climate.
The BBC and Channel 4 may believe the Warmie nonsense – but we don't have to.