I've been trying to understand why the Swedes are apparently encouraging Third-Word, illiterate, often inbred, low-IQ, unemployable, violent, scum to pour into their country and gang-rape their daughters:
So, here's a new theory:
I wonder if Swedish men have been so emasculated by decades of feminist, politically-correct indoctrination that they're no longer able to have normal sex. So the only sexual satisfaction they can now get is from watching their own daughters being gang-raped and gang-sodomised by more sexually-active Middle-Eastern and African refugeehadis and rapemigrants.
You might vaguely remember a case in January 2017 when three rapemigrants broadcast themselves violently raping a Swedish girl while broadcasting their 'fun' live on Facebook. Tens of thousands of people including many Swedes eagerly watched the broadcast rape until someone reported it to the police who were then forced to leave their screens and reluctantly arrest the rapemigrants
Viewers say they watched as officers arrived at the scene where the attack had been taking place, after which the livestream to the apartment was finally shut off.
The men were arrested in the town of Uppsala north-west of Stockholm on Jan 22 after members of a closed Facebook group, which has 60,000 members, saw the attack streamed live and alerted police.
After the arrest, another young woman came forward, telling Swedish media that she had also been a victim of sexual assault perpetrated by one of the men who she recognised in the video. The 21-year-old Swedish woman said that she had been raped 15 months before the livestream incident while taking a shower in her apartment but, of course, the police took no action.
In April 2017 a Swedish court pretended to sentence three young men to prison for gang raping the woman and livestreaming the attack on Facebook.
Reza Mohammed Ahmadi, 21, was sentenced to two years and four months in prison for rape and accessory to rape, while Maysam Afshar, 18, was sentenced to one year in prison for rape, a reduced sentence because of his age.
Both are Afghan citizens who have been granted residency in Sweden.
Emil Khodagholi, a 21-year-old Swedish citizen, was sentenced to six months in prison for aggravated defamation for posting the rape on Facebook, and for failing to report it.
Yup, that's the 'punishment' for rape (when committed by rapefugees) in Sweden – just a few months in a luxury holiday-camp Swedish prison. (one could suspect that had the rapist been a white Swede then the prison sentence would have been more substantial). Then while spending their few months relaxing in their Swedish 'prison' the rapefugees can have fun discussing with their friends the best way to rape and sodomise Swedish girls. Whether it's then best to urinate on their victims or defecate on them. Whether you get more fun by also beating and kicking the women while raping them:
Or whether you should just kill the white trash so there are no witnesses: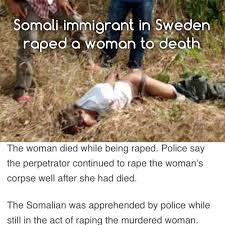 No doubt, the refugeehadis will be released early on some spurious grounds. Moreover, the prosecutor in the case decided not to pursue deportation in the case of the two asylum seekers, who both claimed they had come to Sweden as unaccompanied minors, so they will be allowed to stay in Sweden because to throw them out would infringe their Yuman Rights. And no doubt they'll go on to rape many more Swedish girls, apparently with the full consent of the feminised, emasculated Swedish authorities: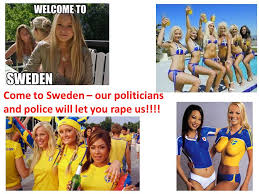 So, Swedish men, is that the truth? You get more pleasure from watching refugeehadis raping your daughters than you get from normal sexual intercourse, if you're even capable of that any more?
Just as a comparison, an American man who committed a similar offence in Chicago was sentenced to nine years in prison. And I believe that US prisons are not holiday camps like Swedish ones.
And, while talking of livestreaming, this is apparently a blubbing, whining rapefugee in a British prison being given a lesson about raping British girls by some white, patriotic British inmates: