I've been trying to make sense of Oxfam's accounts to see how much/little of our money actually goes to charity. Here are some first thoughts.
Oxfam's total income last year was £385.5m. But only £286.5m was actually used for what Oxfam and the Charity Commission call "charitable expenditure" – a reasonable, but not impressive 74.3%.  Why so little?
Oxfam seems to have 3 main sources of funds – shops, public donations and government grants.
Its shops raise £89.9m, but cost £67.6m, leaving just £22.3m for charity. Not great, considering the people working in the shops are mostly volunteers.
It raises about £295.6m in donations with a cost for raising this money of £23m (7.8%). That looks pretty good. But £159.8m of these donations come from government, large institutions and public authorities. So, actually only £135.8m is raised at a cost of £23m (17%). Not great, but not disastrous either.
So we now know that of the £385.5m raised by Oxfam, £90.6m (shops – £67.6m plus fundraising – £23m) of this is spent getting the money in. That leaves about £294.9m to be spent.
Then we have to knock off about £31.9m for support and governance costs, leaving £263m – 68% of the £385.5m raised – available for charity work.
Now comes a bit of guessing. Oxfam's staff costs are £59.5m in the UK and £42.3m overseas – total £101.8m. If we assume that say a third of these staff are in administrative and managerial functions and that two thirds are doing real charitable work, then the administration and managerial staff costs would be £33.9m. This would leave around £229.1m for charitable work (59.4% of the £385.5m raised).
Of the £229.1m available for charitable work, £90.6m is handed out in grants to other charities. As they will certainly have managerial and administrative costs of 20% or more, that's another £18.1m not available for real charity. That leaves us with £211m – 54.7% of the £385.5m raised by Oxfam (click on chart to see more clearly)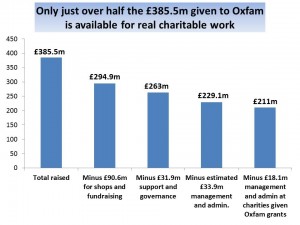 Then there are a few other costs I haven't included like the £48,000 expenses claimed by Oxfam's top boss.
By my reckoning, only about 50% or less of the money given to Oxfam is actually used for real charitable work. That's pathetic.
Then there's one other not so small problem – how much of the money actually used for charity is lost to Third World corruption and incompetence? I'll do a separate blog on that in the next couple of days.
All in all, you're probably wasting your money if you give it to Oxfam and you're probably wasting your time if you're one of the 22,000 volunteers who help out at Oxfam.
(Tomorrow, I'll have a brief look at the BBC Children In Need charity to see whether it might be more generous to its own employees than it is to the children it is meant to be helping)