Monday/Tuesday blog
I don't understand
In spite of having worked in almost 100 organisations in 15 countries and in spite of having written more than 10 published books, I admit I don't understand. I don't understand why our rulers and so many self-styled 'activists' are so intent on impoverishing us making our lives more miserable, shorter and much less enjoyable.
Western society has provided the largest percentage of their people with the best quality of life ever seen throughout human history. Yet rather than recognising this and celebrating this, part of our societies are trying to destroy this. I think it has something to do with the fact that many of our rulers and supposed 'progressives' and 'liberals' and 'activists' view us with undisguised contempt and see us as what Neil Oliver calls 'useless eaters'.
What I do understand
But there is something I think I do understand. It seems like every day we have some woke, howling, vein-throbbing, mouth-frothing self-styled 'activist' screaming at us about their latest cause:
Last weekend, around 118 of these 'activists' were arrested for trying to disrupt the Grand National. Today some (IMHO) crazy individual was quoted in the Times saying she was 'thrilled' that the Brecon Beacons management has decided to change the park's name to something Welsh and unpronounceable in the battle against climate change. Quite how changing a national park's name will help the fight against climate change was not immediately obvious to me.
But whatever the cause, however ridiculous, you'll always find a herd of these woke 'activists' having what look like emotional breakdowns as they scream and rant and harangue us about their particular (usually utterly trivial) crusade: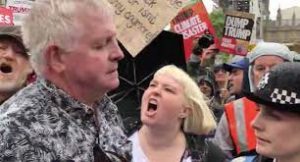 I sometimes wonder if anyone does any real work anymore or if a huge part of the population spend much of their lives on 'activism'.
Wanting to understand what drives these self-styled woke  'activists', I Googled the word 'narcissist' and found these 9 traits of a 'narcissistic personality disorder' (NPD):
Sense of self-importance
Preoccupation with power, beauty, or success
Entitled
Can only be around people who are important or special
Interpersonally exploitative for their own gain
Arrogant
Lack empathy
Must be admired
Envious of others or believe that others are envious of them
https://www.dukehealth.org/blog/9-signs-of-narcissistic-personality-disorder
Another description of narcissism I came across was:
The word narcissism gets tossed around a lot in our selfie-obsessed, celebrity-driven culture, often to describe someone who seems excessively vain or full of themselves. But in psychological terms, narcissism doesn't mean self-love—at least not of a genuine sort. It's more accurate to say that people with narcissistic personality disorder (NPD) are in love with an idealized, grandiose image of themselves. And they're in love with this inflated self-image precisely because it allows them to avoid deep feelings of insecurity. But propping up their delusions of grandeur takes a lot of work—and that's where the dysfunctional attitudes and behaviours come in.
Narcissistic personality disorder involves a pattern of self-centered, arrogant thinking and behaviour, a lack of empathy and consideration for other people, and an excessive need for admiration. Others often describe people with NPD as cocky, manipulative, selfish, patronizing, and demanding. This way of thinking and behaving surfaces in every area of the narcissist's life: from work and friendships to family and love relationships.
https://www.helpguide.org/articles/mental-disorders/narcissistic-personality-disorder.htm
Or there was this list: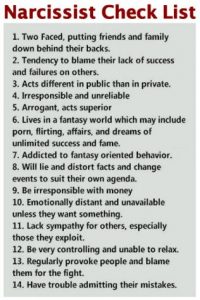 I guess that the point of today's blog is to suggest that activism and wokeism are most usually just narcissism – needy and emotionally unstable people desperately looking for a cause (any cause) to fuel their own exaggerated sense of moral and intellectual superiority. So every time you see an 'activist' don't bother listening to what they're saying as their supposed 'cause' is probably just a convenient vehicle for their own self-righteousness and self-aggrandizement.
Next time you see an 'activist',  look for the narcissist.