I know you've all been lying awake at night fretting over what you should buy PM David Cameron for Christmas to thank him for being such a great leader for the last wasted three and a half years. Well, here are a couple of suggestions: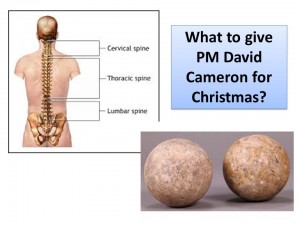 After the catastrophe of New Labour – 13 years spent wrecking the country – ruining our education system, bankrupting the economy, allowing in over 7 million (mostly benefits-scrounging, Britain-hating) immigrants, destroying our armed forces, creating an obese public sector of overpaid, over-pensioned self-serving fools – we needed vision and leadership to sort out the mess. But sadly, that's not what we got. We got the cowardly, u-turning, liar Cameron.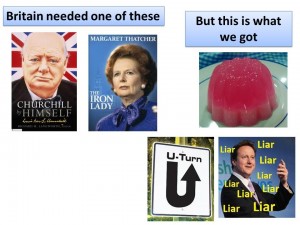 The man didn't even have the backbone to stand up to that schoolboy in long trousers Nick "Barroso's Bitch" Clegg over electoral boundary reform.
And as the year comes to a close, the prospect of a McCluskey/Serwotka (sorry, I meant Miliband/Balls) government is less than 18 months away. Lord help us!
So how can we escape this impending disaster? By following these six simple steps:
Step 1 – UKIP comes first in the 2014 EU elections. Labour second and the Tories a miserable third
Step 2 – The Tories dump Gay Dave and choose a real leader
Step 3 – The Tories and UKIP do an electoral deal whereby the Tories agree not field candidates in 50 "safe" seats and in another 50 seats that Labour should win. UKIP in return agree not to field candidates in the other 550 seats and to get their supporters to vote Tory
Step 4 – A Tory/UKIP coalition wins the May 2015 General Election
Step 5 – The Tory/UKIP coalition presents the EU with a non-negotiable list of Britain's demands for staying in the EU. No grovelling to corrupt, greedy. unelected bureaucrats from countries that are economically and morally bankrupt – just an ultimatum.
Step 6 – Either the EU agrees to the Tory/UKIP list of demands in full or else Britain holds an immediate referendum on continued membership.
Now, that would give us a great Christmas and wonderful New Year.