Friday/weekend blog
My book – THERE IS NO CLIMATE CRISIS – has recently been published in South Korea: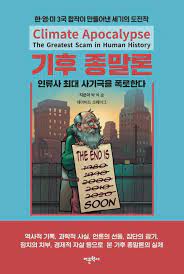 It has been translated and adapted for the Korean market by a Korean professor at a technical university and has been titled CLIMATE APOCALYPSE The Greatest scam in human history
But sales of the book in South Korea have been slow. I guess there could be many reasons for this. They could include:
my book is a load of nonsense that only an imbecile would buy
South Koreans are so stupid that they don't realise we are facing a climate apocalypse caused by human CO2 emissions
South Koreans are so smart that they know the climate catastrophists' claims are a load of nonsense and have no intention of committing economic suicide because of some ludicrous Armageddon fantasy
Let's look at a few charts to try to see what's going on.
The world
First up is world CO2 emissions:
They seem to be going up and up and up as if most countries are blissfully unaware of the warnings from today's greatest climate scientists – Greta Thunberg, Prince Harry, a bunch of private-jet-owning Hollywood luvvies and Al Gore.
European Union
Now let's look at the EU's CO2 emissions:
And the EU's share of world GDP: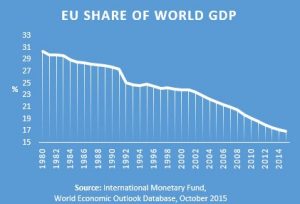 Oh dear, I wonder if the EU's falling CO2 emissions and falling share of world GDP could be in any way related?
United Kingdom
What about the UK? Here are our CO2 emissions:
And here is our share of world GDP:
Could these two charts be in any way related?
South Korea
How about South Korea? Here are South Korea's CO2 emissions:
And here is South Korea's share of global GDP:
It's the same the whole world over
I could go on showing charts for the USA, Canada, China and India and Vietnam and anywhere else. But they all show a similar picture – countries with rising CO2 emissions have a rising share of world GDP and countries cutting CO2 emissions have a falling share of global GDP.
I think this is telling us something.
Many western countries claim they are successfully cutting CO2 emissions in the supposed 'race to net zero'. But they're not cutting emissions, they're just exporting them making developing countries richer whilst impoverishing themselves
As for why South Koreans aren't buying my book – maybe it's because they're too smart to buy the climate catastrophists' doomsday predictions and have no wish to follow the West's example by impoverishing themselves to fight a demon – anthropogenic climate change – that doesn't even exist?