Wednesday/Thursday blog
The invasion that gets ever worse
Hopefully you'll all have seen this chart: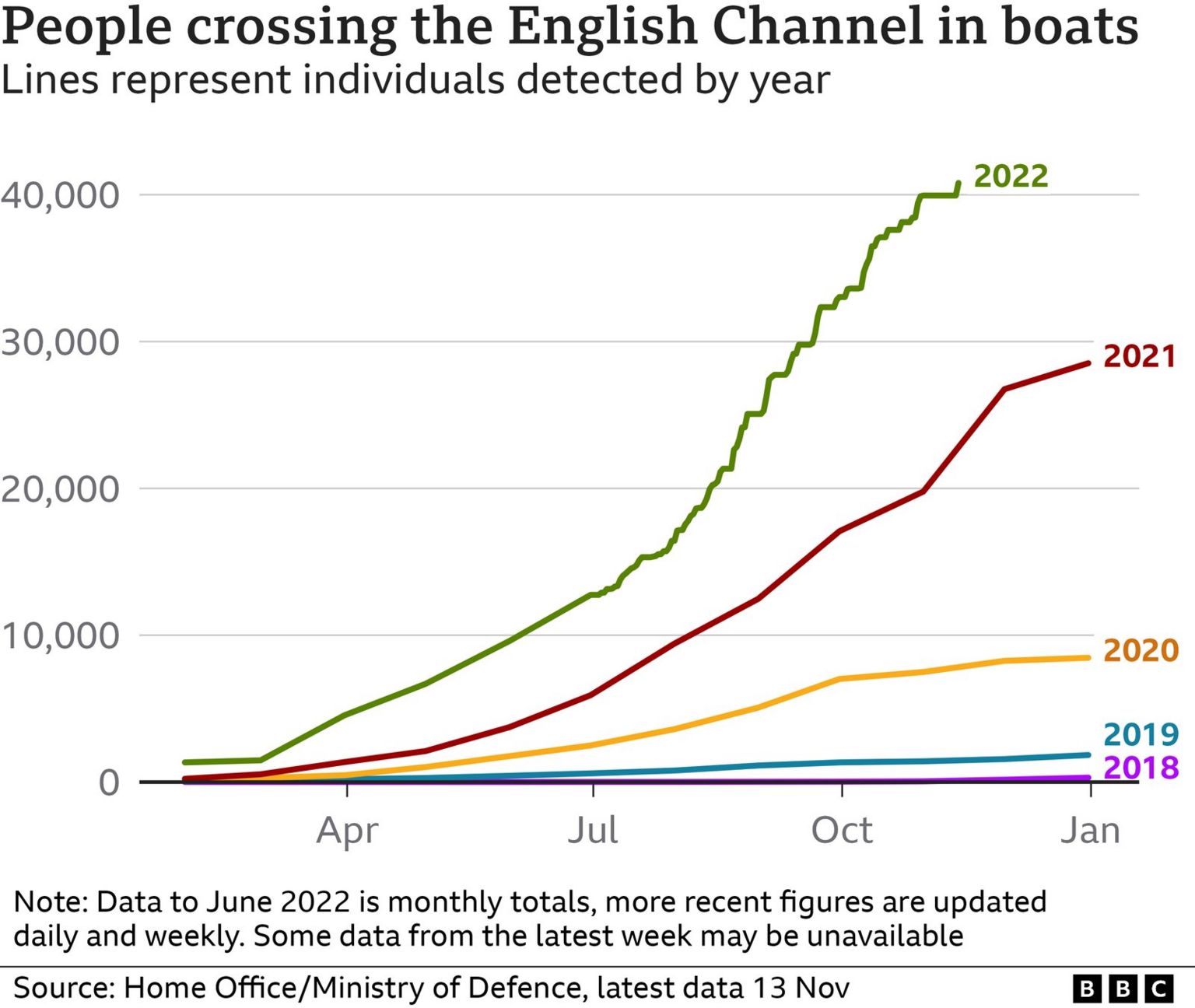 For the last few years our various Home Secretaries have all promised and promised and promised to reduce the number of illegal migrants crossing the Channel. The result – a massive increase every year. The solution is simple – they are coming from a safe country (France) and so they have no right to claim asylum in the UK. According to international agreements, the UK has the right to deport every single migrant within 24 hours of their arrival here.
Mass deportations would soon stop the migrant invasion as the migrants would have paid people smugglers thousands for nothing. But instead our politicians scramble to find sufficient 4- and 5-star hotels to house the illegals at a cost to us of over £7m a day – over £2.5bn a year.
Why?
The NHS money-wasting monstrosity
Every year we're told that our NHS (which is supposedly the envy of the world) needs more money and more staff. And every year it gets ever more billions from us and thousands more staff. Yet the health service in England carried out 600,000 fewer procedures in the first nine months of 2022, compared to the same period in 2019 even though its budget grew by nearly £30billion over the same period. In the first 9 months of 2019 the NHS completed 12.4 million procedures. In 2022 this fell to 11.8 million:
Yet the NHS in England has 13% more doctors — including 10% cent more consultants — as well as 11% more nurses and 10% more clinical staff now compared to 2019.
A cynic might conclude that the more billions we pour into the NHS and the more staff we pay for, the less work actually gets done.
And the latest wheeze our new Health Secretary has come up with is to supposedly improve NHS efficiency (though I suspect the words 'NHS efficiency' are an oxymoron just like the words 'Border Force') by cutting down the number of pen-pushers to free up more money for patient care. Before making this empty promise, it's a pity that the latest in a long line of liars and idiots failing to run our health service didn't look at current NHS recruitment ads. Had he bothered, he might have noticed these:
Salisbury NHS Trust – Head of Diversity and Inclusion – £56,164 to £65,262 a year
Cornwall Partnership NHS Foundation Trust – Inclusivity and Diversity Lead – £48,526 to £54,619 a year
Nottingham University Hospitals NHS Trust – Director of Equality, Diversity and Inclusion – salary not posted yet
North East Ambulance Service NHS Foundation Trust – Engagement, Diversity and Inclusion Advisor – £33,706 to £40,588 a year
Greater Manchester Mental Health NHS Foundation – Equality, Diversity and Inclusion Partner – £41,659 to £47,672 a year
Cumbria and Northumberland NHS Foundation Trust – Involvement and Lived Experience Diversity Officer – £33,706 to £40,588 a year
Gloucestershire Hospitals NHS Foundation – Equality, Diversity and Inclusion Officer – £23,949 to £26,282 a year
It seems our political leaders have given up trying to achieve anything. They promise everything and deliver nothing. They seem to only be interested in keeping their jobs for as long as possible so they can get rich at our expense.
Liars, incompetents and scum all of them in my humble opinion.