weekend blog
Another day of rail stupidity
Yesterday I wrote a blog claiming that cancelling the Birmingham to Leeds High Speed Rail link was probably the first good decision this useless bunch of flatulent, greedy, self-serving, incompetent idiots in our government had made. In all the media discussions yesterday for and against this decision, I did not hear a single person suggest that it was totally ludicrous spending billions to build a high speed train track for a train that would travel a mere 50 or so miles from Birmingham to the East Midlands Hub and then about another 50 miles from the East Midlands Hub to Leeds.
How is it possible that none of the interviewers or interviewees had the intelligence to realise this?
How I "incited violence"?
A couple of weeks ago, I wrote a blog about a poster I had designed: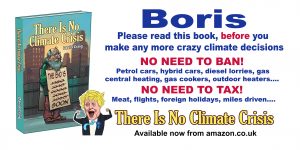 And I mentioned how I had this put on an advan (advertising van) to drive around Manchester for a couple of days during the Conservative Party conference: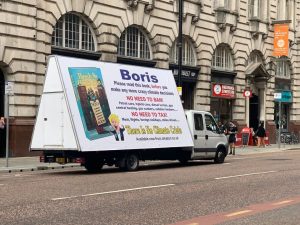 Then, when I tried to book the same advan to drive around Glasgow during the Flop26 Climate Conference and again around London after the return of Parliament, the advan company refused the booking because their driver in Manchester had been heckled, insulted, threatened and even assaulted by global warming fanatics.
Here is the message I received from the advan company:
Thank you for your email.
After due consideration, unfortunately we will not be able to fulfil future bookings for your book as the content of the banner message is just too inflammatory.
This resulted in our driver being both verbally abused throughout the course of the Manchester operation and then physically assaulted by a member of the public. An incident attended by the police and for which I understand a man was arrested.
If you can find another contractor who is prepared to undertake the work, we would be happy to arrange for the banners to be delivered to them.
Bonhoeffer's "Theory of Stupidity"
This trivial episode is a good example of what is called Bonhoeffer's Theory of Stupidity
Dietrich Bonhoeffer was a young German pastor who began to speak publicly against the Nazis' use of violence.  After years of trying to change people's minds, Bonhoeffer came home one evening and his own father had to tell him that two men were waiting in his room to take him away.
In prison, Bonhoeffer began to reflect on how his country of poets and thinkers had turned into a collective of cowards, crooks and criminals. Eventually he concluded that the root of the problem was not malice, but stupidity.
In his famous letters from prison, Bonhoeffer argued that stupidity is a more dangerous enemy of the good than malice, because while "one may protest against evil; it can be exposed and prevented by the use of force, against stupidity we are defenseless. Neither protests nor the use of force accomplish anything here. Reasons fall on deaf ears."
People who live in solitude manifest this defect less frequently than individuals in groups. And so it would seem that stupidity is perhaps less a psychological than a sociological problem.
It becomes apparent that every strong upsurge of power, be it of a political or religious nature, infects a large part of humankind with stupidity. Almost as if this is a sociological-psychological law where the power of the one needs the stupidity of the other.
The process at work here is not that particular human capacities, such as intellect, suddenly fail. Instead, it seems that under the overwhelming impact of rising power, humans are deprived of their inner independence and, more or less consciously, give up an autonomous position.
The fact that the stupid person is often stubborn must not blind us from the fact that he is not independent. In conversation with him, one virtually feels that one is dealing not at all with him as a person, but with slogans, catchwords, and the like that have taken possession of him.
He is under a spell, blinded, misused, and is abused in his very being. Having thus become a mindless tool, the stupid person will also be capable of any evil – incapable of seeing that it is evil
Bonhoeffer was hanged at dawn on 9 April 1945 at Flossenbürg concentration camp just two weeks before soldiers from the United States liberated the camp.
Stupidity, violence and the cancel culture
You'll all probably have heard that Harry Potter author JK Rowling has not been invited onto a programme celebrating 20 years since the first Harry Potter film. It's generally believed that the reason she has apparently been shunned is that (from the little I understand) she dared suggest a few years ago that there were just two biological sexes. This outraged the transgender activists who started screaming and howling as usual and tried to get Rowling 'cancelled'.
The woke obsession with destroying their opponents – whether by attacking the poor guy driving my supposedly too inflammatory advan in Manchester or by getting people cancelled and even fired from their jobs – seems to be today's version of Boenhoeffer's Theory of Stupidity.
Supposedly intelligent and often educated people somehow abdicate their freedom to think for themselves and instead submit to a collective psychosis. Then they become obsessive believers in a cult which has no scientific basis. Moreover no amount of factual evidence that their beliefs are misguided will ever get them to change their minds. In fact, the more they are presented with facts debunking their cult, the more they will retreat into the protection of their own stupidity.
Today's climate catastrophists – Extinction Rebellion and Insulate Britain – are perfect examples of Boenhoeffer's Theory of Stupidity. The fact that they worship an autistic, undereducated schoolgirl as a modern-day saint is just further proof that their movement is a cult rather than having any scientific basis.