I spent quite a bit of time writing the last two days' blogs. So today I thought I'd relax and just bring you a very short video showing the kind of scenes that will become ever more frequent as we allow ourselves to be invaded by millions of migrants – most of whom are violent, intolerant, misogynistic, sex-obsessed males of military age.
Moreover, if the studies of IQ levels per country on which the chart below are to be believed, most of the invaders have an IQ level of between 70 and 80, when the average IQ in the civilised West is 100: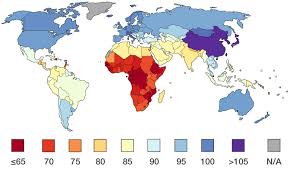 To put it bluntly, most are what we would call mentally retarded and will never have jobs or contribute anything to the societies they are being invited to invade apart from violence and criminality.
So ladies, enjoy the wonderful smug feeling of holier-than-thou self-righteousness as you proudly march with your idiotic "Refugees Welcome" banners when hardly any of the invading armies are real refugees:
Ladies, enjoy your narcissistic display of your own achingly open-minded libtardism when you vote for lefty, migrant-hugging political parties. But be careful what you wish for. You could be the next person to feature in videos like the one below: