One hot issue in the EU referendum campaign is whether Turkey will be allowed to join the EU thus giving 76 million mostly impoverished, M*sl*m Turks the freedom to live and claim generous benefits anywhere in the EU.
So, where will the Ottoman millions head for? Bulgaria? Probably not. Latvia? Again, probably not. Anyone got any ideas? Oh, I know, what about 'Benefits Britain'? In 'Benefits Britain' the Turkish millions (tens of millions?) will get free housing, free healthcare, free education for their many children and, of course, free money.
Liar David Cameron claims that Britain can veto Turkey's entry into the EU. But rather than use words to expose lying Dave's lies, let me instead show you a cartoon I found floating around on the Internet which shows how Turkey's *sl*mo-fascist dictator can blackmail the EU to get whatever he wants: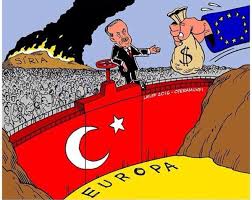 And one reader has been busy with their muse, so here's his or her poetic offering:
(by printing this 'poem' I am in no way  condoning the views it expresses, I am merely trying to facilitate free speech)
Merkel f*cked a Turkish perv,
His name was Erdogan,
She took him to the baths one day,
To see if he could swim,
He sank to the bottom, he floated to the top,
Merkel got so nervous,
She knelt and sucked his c*ck,
The Turk was really happy,
As he f*cked the old kraut's throat,
He thought  he was back down the mosque,
Where he f*cked a Billy Goat,
He stole the EU money and stuck it in his coat,
He thought, this is fun, she smells quite ripe,
Just like my favourite goat  
The fat Kraut's arse appealed to him,
As she handed him our dough,
Then she did away with visas,
For reasons we don't know,
So when you hear a girl's been raped ,
The thing to ask is how,
The UK let the Turks in here,
Because of that fat cow .
The EU followed Merkel's lead,
And took it up the arse,
A bunch of f*cking wankers,
A total f*cking farce!,
So why won't Britain stand and fight and put this scum to flight ?
Scared of a  bunch of paedophiles, a sack of useless shite ?
So f*ck the f*cking lot of them,
Each craven Quisling git,
Who betray us every chance they get,
Like Cameron, the Shit.
And when your children ask you,
How this all came to be,
They will spit and sneer and curse you,
For going down on bended knee.
As M*sl*m Turks roam round your town,
And girls are groomed and raped,
Dare not complain, you gutless Brits,
Teach your children Allah's great.