Apologies to readers, but today I want to hijack my blog to highlight a company that I think might be a bit suspect. My aim is that people Googling the company might come across this blog and might think twice before buying anything from them.
On 4 June 2015 I bought a (expensive for me) £499 elliptical cross trainer from a company called Powerhouse Fitness:
I bought this so that I could have a body like Arnold Schwarzenegger. This is the fourth elliptical cross trainer I have bought and I still don't look like Arnie. In fact I look much more like his brother (Danny DeVito) from the film Twins: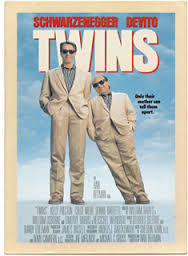 However I do know a fair bit about elliptical cross trainers.
One thing about products like cross trainers is that they tend to work wonderfully the first few times you use them. But after a few weeks, if they're not well-designed and strongly-built, problems start to emerge. However, many customers write their product reviews within the first few days of assembling and owning their cross trainers and so the reviews tend to be overly positive.
Anyway, I waited till I had used my cross trainer over 20 times before doing my review. By that time, two (I believe) problems with the cross trainer had emerged.
On Tuesday 23 June, I wrote a rather critical review of the cross trainer for the Powerhouse Fitness website. I got an automatic email back asking me to confirm that the review was genuine:
I confirmed the review. But strangely it has not appeared on the Powerhouse Fitness website. I have phoned Powerhouse Fitness three times and sent one email asking when my review will appear and have been given various explanations that it is in the process of being reviewed and will eventually appear. But so far, six days after I sent the review, it has still not appeared.
So, in frustration, I posted my review of the product on amazon.co.uk: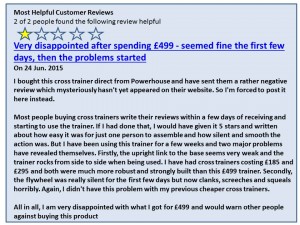 With amazon.co.uk my review appeared just a few minutes after I had posted it.
All this makes me wonder whether Powerhouse Fitness has a policy of only posting positive reviews. Of course, my nasty suspicions may be completely unfounded. Powerhouse Fitness may be totally ethical and my review may just be stuck in a queue and it may just be taking more than 8,600 minutes for my review to appear on the Powerhouse Fitness website when it takes less than 5 minutes to appear on the (presumably much busier) amazon.co.uk website.
Who knows? But I wonder how many companies there are out there that only publish positive customer reviews and censor any criticism of their products or service.
Perhaps some readers have had similar experiences? And I wonder, if there are companies that do this, whether they're breaking any laws?
(Note to Powerhouse Fitness – if there's anything in my blog you believe to be inaccurate, please get in touch and I'll be more than delighted to correct any inaccuracies. But don't sue me, I don't have any money. Though I could pay you with unsold copies of my book GREED UNLIMITED)