Drowning Dave Cameron's latest desperate attempt to buy a few votes by virtually giving away housing association properties to their tenants would be laughable if it wasn't so tragically stupid. But it has cast the spotlight, however briefly, on an area that few people know much about – housing associations. And as housing associations bosses rightly lambast the stupidity of Cameron's latest act of gerrymandering, their protests may not be entirely altruistic.
Housing association bosses do seem to be generously rewarded for their contribution to the welfare of our country – providing affordable housing and homes for the disadvantaged, needy or elderly. Some of these housing organisations are registered charities, others are not-for-profit limited companies. The average chief executive's salary at Britain's almost one hundred housing associations and providers of accommodation for the underprivileged seems to be about £170,000 a year with the best paid on almost £400,000 a year: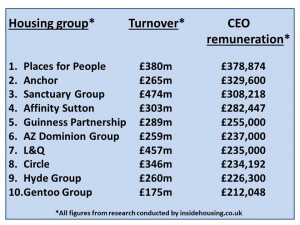 Many of these housing associations and trusts are huge operations turning over hundreds of millions of pounds a year. But an outsider might wonder why their bosses should be paid at a similar level to private-sector executives and more than twice as much as the leaders of charities like Oxfam, Save the Children or Christian Aid.
These housing association bosses don't really work under the same commercial pressures as executives in private-sector companies who have to win customers with competitive products or services. In fact, they usually have a captive customer base which often can't go anywhere else for the services these associations provide.
Moreover, unlike the major charities, most housing associations have a fairly guaranteed level of income – for many this comes mostly from the government (housing benefit). Charities have to fight hard to get our attention and convince us to donate money.
Housing association bosses could be seen as just administrators, rather like civil servants or energy company executives, and the salaries of some of them could seem more than overly generous.
One commentator compared the handing over of our social housing to housing associations to the privatisation of the railways in the way it led to executive pay inflation, 'Introducing competition into the railways was supposed to lead to an influx of new talent and ideas; instead, the same individuals who spent their careers at British Rail simply took home much larger pay packets for the same job'. Certainly some people might wonder why Network Rail, a monopoly provider of rail track for the train operators should be paying one executive £922,000 in 2013-14, another £890,000, another £880,000 and another £790,000 to run an organisation that has captive customers (the train operators) and no competition.
When criticised over the ever-increasing salaries paid to housing association bosses, industry representatives give the usual justifications that we've heard from every other group explaining why they were so generous to themselves with other people's money – bankers, FTSE100 CEOs, top civil servants, energy company bosses, local authority executives, social services managers, hospital chief executives and politicians. They all claim that they need to pay high salaries to get the best people. There was 'if the property sector is going to attract and retain chief executives of a high calibre then we need to ensure that their salaries are attractive, reflect previous experience and reward performance' and we were told 'such leaders are in demand across all of Britain's sectors, both public and private. It's imperative that housing associations – who provide high quality homes and services for millions of people – can attract and retain such talent'.
So, if you want a job without the stress of competition and with a captive customer base, why not become a housing association boss?