Remember how we all laughed in 1979 when Monty Python brought out their brilliant film LIFE OF BRIAN (click to see more clearly)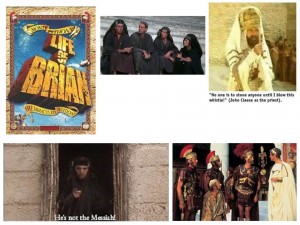 And how we enjoyed one of the most famous songs ever to be written in English:
Of course, a few excessively zealous Christians were angered by the film and some financial backers pulled out. Fortunately for us, former Beatle George Harrison stepped in with the necessary money and the film was made and distributed. But there were no threats against the makers; none of the actors was killed; there were no attacks on cinemas showing the film and there were no mass protests across the UK from hundreds of thousands of screaming, hate-filled, mouth-frothing protesters against this 'insult to their religion' and the film's 'blasphemy'.
Now spool forward to today. Imagine (and I know it's hard to do) someone wanting to make a film called perhaps LIFE OF ALI about some hapless fool (like Bwian) being mistaken for the Prophet Mo………….
For a start, nobody would be foolish enough to even think of making such a film; no actors would risk their lives appearing in it and no cinemas would dare show it for fear of being attacked and burnt to the ground:
Moreover, were such a film to be made, rather than supporting freedom of speech, our spineless politicians would all be lining up to condemn the film as being 'provocative' and 'causing social tension'.
One of our British values is/was our sense of humour and our ability to poke fun at even the mightiest and most self-righteous groups in our society. *sl*mo-Dave Cameron claims "*sl*m's values are British values". The fact that the film LIFE OF ALI can never be made suggests that Dave is a blatant and recidivist liar.
It's sad to see how much Britain has changed and how we have all been diminished by the *sl*mification of our once great country forced on us by our cowardly rulers.